---
#OTRHoopsReport: Program Focus – PSB Select
Editor's Note: OTR Program Focus is written on programs on the rise that attend OTR events. It is designed to highlight players who are picking up recruiting offers and interest.
Program Focus – PSB Select
This past weekend PSB Select took care of business at the OTR Sweet 16 Session I. Their 17U team took home the AAC Bracket Championship on Sunday afternoon with a 75-53 win over the Tennessee Travelers.
Take a look at Wes Morgan of Charlotte, N.C., hitting an early 3-pointer to get PSB Select out to an early lead in the game.

Check out Bates Jones of Charlotte Latin hitting this jumper in transition.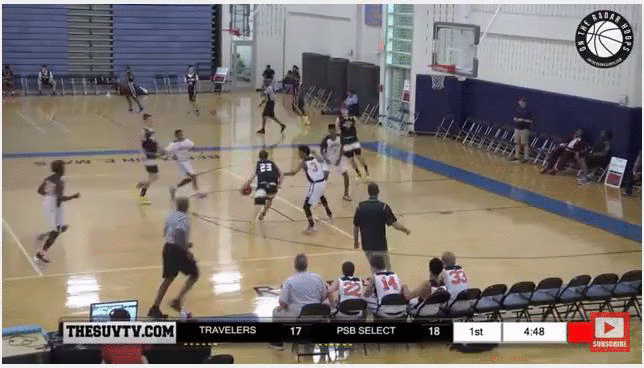 Watch Brandon Reeves throw one down in transition

College coaches have taken notice of the Charlotte based group as of late too. Offers and visits are taking off for the young men of PSB Select. Wing Ryan Schwieger of Matthews, N.C., picked up an offer from Lehigh this week following the OTR Sweet 16. Appalachian State and Liberty were also in to watch Schwieger yesterday and Elon, George Mason and Winthrop visited last week. While Navy, Presbyterian, High Point and Furman all have expressed interest in the 6-foot-5 sharp shooter.
2017 PSB Elite @PSBselect wing Ryan Schwieger @ryanschwieger has been offered by Lehigh @Sim_Frazier

— Shun Williams (@OntheRadarHoops) April 19, 2016
Class of 2017 guards Bates Jones and Ben Topp of Huntersville, N.C., have received interest from Navy. And after a big outing last weekend, John Meeks Graham, N.C., has picked up interest from College of Charleston, Longwood and Presbyterian. Also make note of Marcus Thomas of Mint Hill, N.C, who picked up interest from Ohio and North Carolina Central. Expect the interest and offers from college coaches to continue to pour for the PSB Select organization with the momentum that they established from last weekend.
UNCC & Ohio are now in contact with Marcus Thomas (@_MkTms). @Coach_Rick57 @JamieShaw5 @OntheRadarHoops @JustinDYoung @POBScout

— PSB Select (@PSBselect) April 19, 2016
@SUVtv Video of PSB Select from OTR Sweet 16


Jonathan Hemingway is a National Evaluator for the OTRHoopsReport. Hemingway serves on the Board of Selectors for the Naismith Trophy. He is also the publisher of CoachHemi.com. He has been involved in the community since 1996 as a coach, camp director and evaluator. You can reach him via email at JonathanHemingway@PeachStateBasketball.com and follow him on  twitter @JLHemingwayPSB
Recommended Posts
December 5, 2023
December 4, 2023