---
Summer Standouts-September 21, 2020
2021 Devin McGlockton (GA) has been a stock riser all summer
Editor's Note:  Our Summer Standout series will look at players who took full advantage of the summer live viewing period with 2-3 articles dropping each week over the next month heading into the High School season.
By: Kris Watkins  Follow @DrKrisWatkins
Summer Standouts 
2021 Devin McGlockton (GA)
The 2 sport athlete went through the last few years being one of the most under recruited players in GA despite putting up large numbers throughout his first 3 years of his high school career (read about my thoughts on him heading into the summer here).  His play this summer has finally got him the recognition he deserves with coaches calling with his latest offers coming from Lipscomb, Charleston Southern, and USC Upstate to go along with numerous offers he holds from Division I schools on the gridiron.  Standing at 6'7 McGlockton has turned himself into a stretch 4 who shoots the ball exceptionally well at the top of the key.  He has great hands and finishes well at the rim and on the defensive end he is always a threat to alter/block shots at the rim. 
2021 John Latimer III (FL)
The 6'1 point guard is a winner/leader which is what you want from your lead guard position who can excel in a transition setting or half court offense.  Latimer creates for others and does a great job pitching it ahead to bigs/wings running in transition.  In the half court he gets to his spots in the mid range and shoots it well from 3.  What also must be noted is he holds a 4.0GPA unweighted and 4.5GPA weighted.  Latimer currently holds offers from Presbyterian College, NJIT, Holy Cross, and Rollins while also hearing from a number of other schools.  
2021 Tyrone Baker (FL)
6'10 Baker saw his recruitment hit a tipping point at the On The Radar Hoops Summer Jam after playing well all summer with his first Power 5 offers coming from UGA and Virginia Tech to go along other offers in recent weeks/months from likes of Dayton, FAU, ETSU, UNC Greensboro, UIC Chicago, amongst numerous other Division I schools.  A prospect that is still developing physically and will continue to add weight to his frame but his athleticism and length/height will make him ready to step in early to be productive as a rim scorer, rebounder, and shot blocker.  His ability to step out and shoot the ball combined with his developing ability to put the ball on the floor is why high majors have taken notice.
2022 Jameel Rideout (GA)
Have really enjoyed watching the development of Rideout's game over the last 2 years.  He played with a great deal of confidence throughout the summer and it really showed each time he stepped on the floor.  His improved jump shot and ball handling has really taken his game to another level to go along with his ability as one of GA's best on ball defenders.  Do not be surprised for Division I schools to come calling on this high academic prospect with a 4.2GPA as his Junior season at Discovery High school progresses. 
2022 Dylan Wolle (GA)
The 6'3 guard found his spots last year as a sophomore for a talented Sequoyah program. I especially liked him when I covered the Cherokee Forsyth Classic in December.  With a host of seniors gone from his team he will look to be a go to scorer for his High School program which after the flood gates that opened on his scoring this summer with GA Legacy he will be fully ready for this role.  What I like about his game is he has gone from a spot up shooter to a player who can really put the ball on the deck and get into the midrange/the rim and much of this has to do with his great footwork. Wolle is a prospect with a 4.33GPA who has recent offers from Mercer and Jacksonville University.
2021 Evan Howell (GA)
Showed a lot of growth in his game this summer standing at a legit 6'8 the high academic prospect with a 3.7GPA played with energy on defense altering shots and scoring at the rim.  Has been hearing from a number of Division II programs.
2022 TJ Grant (GA)
Grant played really well for the Warner Robins All Stars this summer helping the 6'6 slasher earn his first Division I offer from Mercer.  Expect a big Junior season from him this year at Veterans HS and his offer list should grow. 
---
2021 Ian Schieffelin set to make his College Decision Today
COMMITTING MONDAY SEPT 21ST? pic.twitter.com/hUmubb0Fxw

— Ian Schieffelin (@ian_schieffelin) September 18, 2020
Eval from June 2020 on SouthernHoopsReport.com
"The development of Schieffelin has been one that has been fun to watch the last 3 years with him adding new pieces to his game each season playing on one of the Nation's top high school teams at Grayson High School (GA).  Over the last year he has stretched his range to 3 which is why which has had colleges from throughout the nation calling since the livestream period this summer has started.  He is a walking double double and has really worked on his body which helps him take bangings in the paint and just keeps on ticking.  He has developed an outstanding turn around jumper inside this combined with his ability to rebound especially on the offensive end, run the floor, and score out of ball screens as both the role man/pick and pop man  is why he has recent offers from Virginia Tech, Dayton, Mercer, College of Charleston, Boston University, Clemson, UNC Charlotte all in the last 3 weeks."
---
Thoughts on the current recruiting landscape and player promotion
I think it goes without saying that recruiting for this year's 2021 class is going to continue to be very unique.  With the current Division I dead period extended until January 2021 it is going to be as important as ever for High School coaches to be active promoting their student athletes through social media and film.  There has been much discussion about the need for live broadcast this High School season which I agree would be fantastic but unfortunately may not be economical for many high school programs.  What I do encourage is that High School coaches invest in a high quality video camera (which you can get for $400-$600) as this could help with your players recruitment to have full game film readily available to send out and can be uploaded to YouTube unlisted if their is concern about your footage being readily available for other teams to scout you.  High School coaches feel free to reach out to me for any camera recommendations or thoughts/ideas on how to help promote your players/program.
---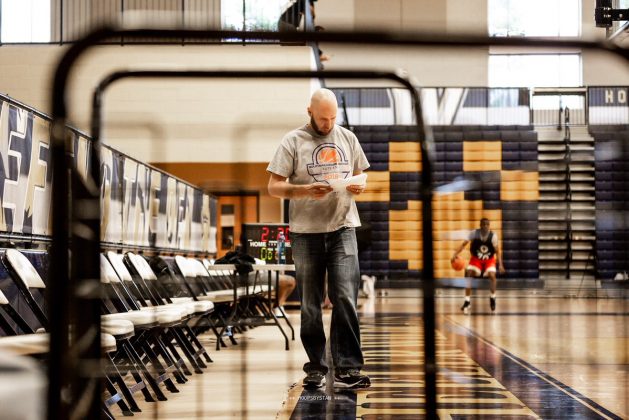 Kris Watkins serves as an Evaluator/Media for On The Radar Hoops.  Watkins is the Owner and Director of SouthernHoopsReport.com and JucoReport.com.  Watkins is the Camp Director the the #SHReportElite150, #SHReportShowcase, #SHReportTop100, #JucoReportElite150, #JucoReportTop100 as well as the Battle of the South Juco/Prep Jamboree.  Watkins covers High School Boys basketball as well as Junior College Men's basketball year round.  Watkins has been involved in the community since 2004 serving as both a College and High School coach as well as a Event Operator and media member.
Recommended Posts
October 27, 2023
October 27, 2023
October 27, 2023