---
Summer Standouts-September 23, 2020
2021 Jusaun Holt (GA) will make his college decision on September 27th
Editor's Note:  Our Summer Standout series will look at players who took full advantage of the summer live viewing period with 2-3 articles dropping each week over the next month heading into the High School season.
By: Kris Watkins  Follow @DrKrisWatkins
Summer Standouts 
2021 Jusaun Holt (GA)
Committing September 27th??

— ?????? ???? (@JusaunH) September 19, 2020
I think when it is all said and done we are going to look back and wonder how Holt was outside the top 100 on the major rankings websites.  You can list Holt as a Small Forward or Shooting Guard, or Wing, it doesn't matter because at 6'7 he is a straight up player and when he makes his college decision on September 27th I think whatever college gets his services is getting an absolute steal in the 2021 class.  His level of confidence and tenacity all summer with Team Dickerson was through the roof and he went at and didn't back down from anyone put in front of him.  He has shot the deep ball at an elite level all summer both off the catch and shoot and off the dribble added with his ability to put the ball on the floor and get into the paint and you combine this with his overall defensive versatility being able to guard almost every position on the floor is why I am so high on him for the collegiate level.
2021 Logan Stephens (GA)
After missing much of his Junior High School season due to injury in which he would have been a major contributor for a Woodward Academy team that one the State Championship he really rounded into form as the summer progressed looking better and better with each outing.  He has gotten back his at rim explosiveness and has a strong upper body that allows him to take hits in the paint and still score through contact.  He can really heat up from 3 and score in bunches as was shown in his multiple 20+point game scoring outings for Team Forrest this summer.  He is one of Georgia's biggest sleepers and will be a big part of Woodward Academy's success as they look to make another deep run after graduating numerous seniors who went on to play at the collegiate level from last year's team.
Got New Footage dropping this week on Available
2021 @Logan30stephens of @WoodwardBBall/@TeamForrest_AAU

-HE had a HUGE summer

Check out this ?from his 27pt performance on @SUVtv w/ @Dre_IsReloaded & @CoachCabralHuff on the call pic.twitter.com/sn6mZYRZFO

— Dr. Kris Watkins (@DrKrisWatkins) September 1, 2020
2021 AJ Neal (FL)
One of the top point guards I watched this summer who averaged 25+ppg.  Knocks down DEEP 3's forcing defenders to pick him up once he crosses half court and is really good in ball screen situations where he is patient and lets the play develop.  He is an exciting passer especially in transition.  He can get into the paint and finish through contact and the added size from when I last saw him in the fall at the On The Radar Hoops Super 64 in the Fall of 2019 and this will help him as he prepares to be a lead guard in college.  
2021 Jens Rueckert Jr (GA)
Arguably Georgia's most explosive finisher/leaper Rueckert had a number of standout performances for the GA Canes this summer.  He attacks the rim with reckless abandonment and has a non stop motor.  What I like about his game is that you can tell he has really been working to hone his skill set and not simply rely on his athleticism and his best basketball continues to be in front of him as it is very noticeable the improvement in his 3point shot and slashing ability from the wing.  He will step into a large role at South Cobb this school year on one of GA's top teams.
2022 Mason Lockhart (GA)
The 6'6 Forward started his summer rise at the On The Radar Hoops Academy in June and didn't look back all summer long.  He has great footwork inside, does a great job of feeling his defender before scoring over either shoulder or with a variety of quick spins in the paint.  His conditioning improved as the summer progressed and his agility for his size was really evident as we got into July/August.  He picked up his first Division I offer from Mercer last month but I expect him to garner more interest/offers as coaches shift their focus to the 2022 class as the High School season begins.  
---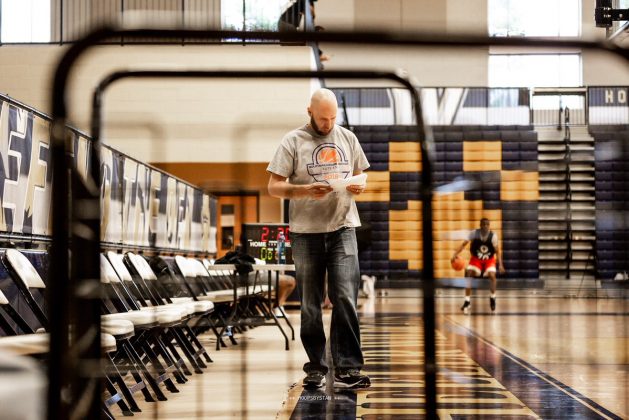 Kris Watkins serves as an Evaluator/Media for On The Radar Hoops.  Watkins is the Owner and Director of SouthernHoopsReport.com and JucoReport.com.  Watkins is the Camp Director the the #SHReportElite150, #SHReportShowcase, #SHReportTop100, #JucoReportElite150, #JucoReportTop100 as well as the Battle of the South Juco/Prep Jamboree.  Watkins covers High School Boys basketball as well as Junior College Men's basketball year round.  Watkins has been involved in the community since 2004 serving as both a College and High School coach as well as a Event Operator and media member.
Recommended Posts
June 2, 2023
May 30, 2023
May 24, 2023